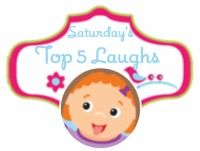 I'm linking up with
The Mommyhood Chronicles
 for Saturday's Top 5 Laughs
Gabriella has become my little mimic or copycat. Every face I make she is quickly trying her best to contort her face to look like mine. See that fish face. I love it! 
Also, gestures that I make to DH she has picked up on as well. See the picture of her with her "dukes" up. Well, we noticed she was doing this arm shaking bit and wondered where oh where she might have learned it? Mama of course! See, I wave my arms in jest like this to DH when he does something ridiculous. 
Hallmark singing snowmen – I have been collecting these snowmen since they started out from Hallmark. I just happened to take one up from the Christmas decorations last week and G was hooked! I mean, OBSESSED! Now, all of them are around the house. I think by the time Christmas arrives DH and I might have killed them off one by one. Poor singing snowman…
Story time has become our favorite time.  G likes to sit with us at night before bed and read a book. Out two current favorites are "I Love You Through and Through" and "Busy Day" Baby's first Look and Find Sesame Beginnings. 
Horseback riding! G's grandparents got her a Fisher Price Musical Pony and she is in love. She drags this thing all over almost like she is walking the dog.