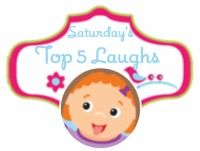 I'm linking up with
The Mommyhood Chronicles
for Saturday's Top Five laughs.
I'd like to congratulate Naomi on winning the $25.00 Melissa & Doug Flash Giveaway. Winner was chosen via Random.org. Thanks to everyone who participated!
Gabriella like to torture I mean tease our dog "Lucy" when she is eating in her highchair. She waves the food back and forth in from of Lucy's face while she sits there and drools all over the floor. Believe me this dog gets her fair share of food from G, but I just feel bad when the food is so close yet so far from her big salivating mouth. I mean, how can you say no to that sweet puppy face! 
Nap-time is always interesting now since Gabriella likes to give shout-outs to Mama and Dada. She stands in her crib and yells out Maaaaa-Maaaaa and Daaaaadaaaaa in her sweet little tired voice. It takes everything I have for me to not go in there and snuggle her. 
Pucker up! I wish I had a picture of this and I'm still trying to capture one, but Gabriella likes to pucker her lips. She has a million zillion expressions with her face just like Mama. So, no fear, we will never have to wonder how she is feeling! 
Girly girl! We took Gabriella over to my parents house last Saturday for an impromptu visit and my dad was cleaning up what was left of the leaves. We sat G down on the lawn and my dad piled a bunch of leaves on her. Well, my little girly girl sat with a look of disgust and raised her hands up as if to say, "EW GROSS!" See for yourself. 
Gabriella is pretty much full on walking now so she thinks she is just a hot ticket! She toddles all over the house babbling to herself and giggling. I love it! 
Have a great weekend everyone! We are hoping to find the perfect Christmas tree to chop down.