Welcome to the weekend again folks! Today is a day of remembrance for us as you can read
here
. I'm looking forward to February to bring us a fresh start. I hope you all have a wonderful weekend! Now on to my top five laughs for the week.
We were eating dinner the other night (pasta) when Gabriella thought it would be funny to find her nostrils. Yep, nothing like sticking a saucy finger up your nose to add some excitement to dinner. I really hope this was a one shot deal, but something tells me I might see more of it. Lets hope not! Disgusting!
Trash Can – Our house is baby gate free due to the fact that our current living situation has us in fairly tight quarters. We use to have a gate at her bedroom door, but that was mostly to keep out the pets. Now that she is a busy body running down the hallway and all over the place the gate became more of a hazard than a helper to all of us. Anyway, back to the trash…the trash can in the kitchen is suddenly mesmerizing. She obviously sees us throw trash in it and has decided to follow suit EXCEPT that could mean ANYTHING is fair game for tossing! She knows we don't want her to touch it and looks right at us when she is about to. I think its time to look for some kind of locking trash can or one we can hide in the cabinet under the sink. BOO!
We went to breakfast with one of my good friends the other morning who is also Gabriella's God-mother. Since we were at the restaurant at 8:30am there were quite a few older folks enjoying their breakfast. One sweet lady came over to our table to compliment on how well behaved and cute G is. G thought this would be a good time to share some of her ham and cheese omelet with the sweet lady and proceeded to put some in her hand. Um, very nice to share, but I don't think food and strangers our what I had in mind when I said, "Sharing is caring".

One too many times, Gabriella must have watched me wipe her messes off the floor after dinner.  Whenever she gets her hands on a package of baby wipes, she pulls one out, bends down, and wipes the floor.  Now if I can only get her to wipe up her own mess!

When we ask her questions, she lets out the funniest, squeaky "Eh?"
Here are some pictures from our week. 
Don't forget to join me over at The Mommyhood Chronicles and link up your funny posts!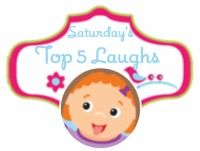 Please head over to my GIVEAWAY and enter to win 8 children's ebooks!